Texas Best Lobbyist News: Texas Number One in Job Creation for the United States.
The following article is a digest from a story originally done at Forbes and printed at MSNBC.com. The Texas Lobby Group is making this information known as a public service for Texas lobbyists, government consultants, political activists, and all other interested parties.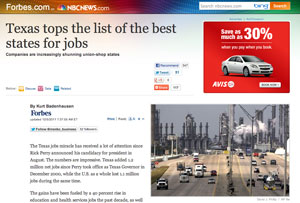 They have been calling it the "Texas Miracle" and the employment situation in our state has been making national news since Rick Perry took the public limelight last year. Whatever you think about the national economy, the numbers in Texas are impressive. Texas added 1.2 million jobs while Rick Perry has been governor. The rest of the United States lost 1.1 million jobs over the same time period.
The thriving oil industry is responsible for some of this, along with a rise in education and health service jobs.
Things are looking bright for the future as well. Texas leads the way in projected job creation for the next five years. This is according to research from Moody Analytics which forecasts another 1.6 million jobs in Texas through 2016.
What's so great about Texas for businesses? Low taxes, a friendly business climate without a lot of regulation, and a plentiful supply of young labor. These factors are not unknown to national businesses looking to locate or relocate. And because of the business friendly climate, plenty of companies have come to Texas or have indicated an interest in relocating.
"As the State of Washington considers a multibillion-dollar tax increase for citizens and businesses … I invite you to consider your future in America's new land of opportunity: the State of Texas. If Washington doesn't want your business, Texas does. Texas has no personal income tax and no interest in getting one."

Governor Rick Perry
Some of Texas' success in attracting businesses has to do with the Texas Enterprise Fund, a state fund that awards money to companies that start businesses in Texas. There are stipulations tied to job creation numbers, industry type, and commitments to doing business in Texas. General Electric, eBay, Electronic Arts, 3M, and TD Ameritrade have all announced expansion plans in Texas with help from the TEF.
There are some possible negatives to Texas though. The population is growing so fast in Texas that, in spite of the rosy job predictions, unemployment is at 8.5 percent, which is the highest it's been in 24 years. And that rate has doubled since 2007. In addition, 9.5 percent of Texas jobs are minimum wage jobs, the highest percentage in the United States.